Our Quality Products
Cyber Digs is good for developing USER FRIENDLY Software, to keep your
smile
!!! 
Cyber Digs' My School 4.0
ERP Software for Schools & Colleges to handle Enquiry, Admission, Fee Management, Library, Attendance, Time Table, Certificates, ID Card, Reminder Letters, Demand Register, SMS, Birthday, Stock, Financial Accounting & more…
know more… 
Cyber Digs' Business Plus 3.0
India's First GST Ready Business ERP Software that is suitable to support almost every kind of business. If you are a Retailer / Wholesaler / Distributor / Manufacturer / Accountant / CA / Broker / Commission Agent, …       
Know more…
Cyber Digs' Counter 3.0
GST Ready Retail POS ERP Software for Readymade Garments, Apparels, FootwearShowrooms with Barcode Label Printing, Complete Stock Management, Financial Accounting, Complete GST from Billing to E-Filing, SMS Plugin… 
Know more…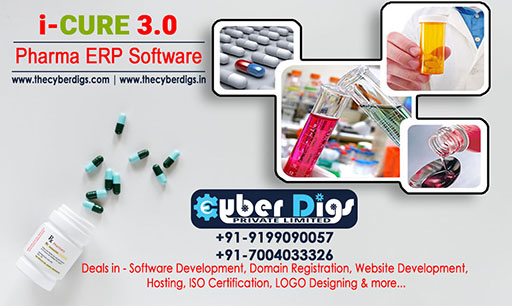 Cyber Digs' i-Cure 3.0
ERP Software for Pharma Retailers, Wholesalers, Chemists and Druggists, Medicine Shops, Hospital Dispensaries, Ayurvedic Medicine Dealers, Homoeopathy Drug Stores, 24 hour medical shops to maintain their stock accurately, …
Know more… 
Cyber Digs' e-Desk
GST Ready Hotel Management Software Hotels and Restaurants designed to fulfill needs of most of the functions at Front Desk, Kitchen, Back Office Accounting, Stock Management & Point of Sale (POS) etc…      Know more…
Address
#1-Gautam Nagar, Gangjala, Saharsa. BR-852201
#2-Mana Camp, Airport road, Raipur. CG-492015
#3-H.N-35/8, Adarsh Nagar, Lucknow. UP-226005
#4- 3690 Country Club Drive Nanaimo British Columbia Canada.
Phone
+91-9199090057 | +91-7004033326